This page is dedicated to bringing you stories of the Include Me team, and the friends, families and schools that make inclusion a reality. We'll be updating this page from time to time as more stories come to us, so please check back!
A Letter of Thanks
Bayhawks and Include Me teaching Inclusion in Erie
Include Me worked with shooting guard for the Bayhawks Drew Crawford to teach inclusion to the young students at Lincoln Elementary School in Erie. Drew Crawford read a story about Mikayla Resh as part of the Mikayla's Voice assembly. The assembly focuses around Mikayla, a young woman with significant disabilities. The assembly gives students a chance to learn about Mikayla's life. Students are encouraged to ask any questions they have about Mikayla and her disabilities in order to learn more about the importance of inclusion. To see a news summary of the event from ABC 24 check out the link here.
Talking with Levi
Levi was an Include Me student working with one of our consultants. Levi at the time was 12 years old and was and is a source of inspiration for his peers. Levi contracted spinal meningitis in his infancy which caused Levi's cerebral palsy and deafness. Levi had difficulty communicating due to his limited hearing. Amazingly, our consultant was able to acquire a grant to fund and create a sign language class open to the public. People in Levi's community, with or without disabilities, were able to learn together and communicate with each other. Levi made some great friends from volunteers who attended the class. Levi's new friends and therapeutic support staff now are able to use sign language to communicate with Levi. They've quickly discovered that he has a lot to say.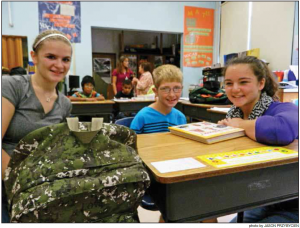 Dori and Teenie
"Without Include Me I don't think she would be where she is,"

 – Dori, grandparent of Teenie
Dori is the grandparent and guardian of Teenie, one of the first students who participated in Include Me many years ago. Teenie has an autism diagnosis, and was included for preschool in Arizona. When they moved to Altoona, she was placed in a special preschool for students on the autism spectrum. Dori wanted her granddaughter to be included in general education, so when BSE sent consents for Include Me, she signed immediately.
Teenie and Dori worked with Nicole Turman. Nicole is one of our most dedicated and experienced consultants, having worked with Include Me since the programs inception. Nicole quickly went to work on developing a plan to include Teenie in general education. She started observing and consulting with Teenie's teachers and completed an SaS Toolkit to identify supports and modifications that could be used in the classroom – this included both academic and behavioral supports.
There were a lot of adjustments made to both the behavior support plan, and to the approach that were used to meet Teenie's needs.
"Some changes were easy, something as simple as carpet squares to visually identify where we should sit during circle time. To make that happen, I actually went out to carpet stores and obtained carpet squares (samples they no longer used) and provided them to the classroom teacher. Other modifications were more involved, including the training of a new aide to provide 1-1 support for Teenie." says Nicole Turman.
Teenie wasn't the only one who had to make adjustments. Dori had a lot to learn with regards to inclusive education but she hit the ground running. Dori attended every parent training that Include Me hosted for the school district.
"She (Dori) was a strong advocate for Teenie, and with increased information, support and resources she became an even stronger advocate." -says Nicole Turman.
Dori went on to take a leadership role in the community and became involved in the local task force. She also helps support other parents in the district. She also became a member of the district's parent advisory group for special education when it was first developed in her county.
It has been several years since we've worked with Teenie but we're happy to say that she remains included in general classes to this day.
"I guess the biggest impact that include me had on me was having support to fight for inclusion for Teenie…to prove that all Teenie ever really needed was acceptance from not only her peers but the adults working with them. I learned to modify lessons for successful teaching… She is loved by the kids in her classroom. Without Include Me I don't think she would be where she is academically or socially and by being included her behaviors due to frustration an boredom have decreased.​"
Mikayla's Voice Assembly @ Pittsburgh Public
Some pictures from a Mikayla's Voice visit at Pittsburgh Public with Include Me Consultant Michal Wargo.
Special Books by Special Kids